Summer Holidays are here again and there is tonnes of fun in Solihull!
Schools out for Summer and the sunshine is here (sometimes), so that means it's the perfect time to enjoy some outdoor activities and family fun! 
There are many events and activities going on this summer, and we've got some of the best ways to get you enjoying the Great British Summer.
We know a lot of our carers and cared for are limited in their mobility, however we're also aware of how beneficial some fresh air and movement can make such a difference. So, we've found some less strenuous activities so everyone can be included in the fun, as well as Solihull on the Move providing activities for people with disabilities or long-term illnesses. We also have a Summer Mental Health and Wellbeing Event, where you can find multiple stalls and organisations, aimed at helping you and your mental wellbeing. 
We are also aware of how a lot of families are financially struggling during this cost of living crisis, and a lot of people are looking to find ways to feed themselves and/or their kids. Thankfully, there are also lots of places in Solihull providing free or very cheap kids meals during the Summer. 


First up, we have a link to Solihull Council, where you can find a map and more information about Holiday Activities and Food (HAF). 
Clicking here or the map image will open a new window and take you to all the fun aimed at all people and families. 
Walking Sports: Free taster sessions starting Tuesday 8th August!
Walking Sports are a slower version of the traditional game played at walking pace with adapted rules. A programme of fun, free, friendly sessions across Solihull parks for adults 45+ or with a long-term health condition. Sessions start on Tuesday 8th August for 6 weeks.
For further information contact Solihull Active 0121 704 8207, E-mail solihullactive@solihull.gov.uk
The Park Active walking sports programme has the following sports to try: Walking Football, Walking Tennis and Walking Rugby.
For individual park timetables please click on the park names for further details:
Walking Netball
Beechcroft Tennis and Multi Sport Club: A range of Walking Netball sessions, running across the week, daytimes and evenings.
North Solihull Sports Centre: Tuesdays 11:15am-12:15pm & Thursdays 1-2pm, £3 per session.
Tudor Grange Leisure Centre: Mondays 10-11am, £4.50 per session.
Tudor Grange Academy: Thursdays 6.30-7.30pm, £4 per session.
Walking Tennis
Solihull Tennis Club: Wednesdays 10am-11am, £7 per session
Tudor Grange Leisure Centre: Fridays, 1-2pm, £3 per session.  
Walking Rugby
Camp Hill RFC: Saturdays, 10am -11am. Walking rugby is for men and women of mixed ability! If you're a retired player or are thinking about getting into rugby, then this new form of rugby might be for you!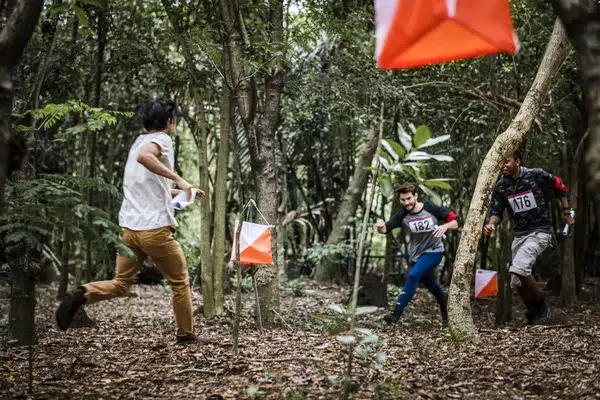 Orienteering
Orienteering is an exciting outdoor activity that exercises mind and body. The aim is to navigate between control points marked on an orienteering map. Orienteering can take place anywhere from remote forest and countryside to urban areas, parks and school playgrounds. Each different terrain offers a new challenge, and when combined with changes of seasons and weather, it is said that no two orienteering events are the same.
Find Your Way – Virtual Orienteering
British Orienteering have collaborated with our local club Octavian Droobers to create exciting bespoke activities in two of Solihull's parks to help get people exploring their surroundings.
Where can I take part?
Find further information on the Find Your Way website or visit MapRun to find more virtual courses.
You can find even more activities with Solihull on the Move.
Solihull on the Move is a framework supporting a borough-wide commitment, to inspire healthier, happier and more sustainable communities through moving more, more often.
The year-long physical activity campaign SoGo! showcases ways to get moving and provides information about how to support the campaign to help inspire others
You can find even more activities with Solihull on the Move.
Solihull on the Move is a framework supporting a borough-wide commitment, to inspire healthier, happier and more sustainable communities through moving more, more often.
The year-long physical activity campaign SoGo! showcases ways to get moving and provides information about how to support the campaign to help inspire others.
Across the borough, there are a range of services that can help you get active and support your health and wellbeing. These include physical activity services for families, older adults, people with disabilities and long-term health conditions, plus a wide range of other healthy lifestyle services.
Solihull Active are the Council's leisure, sport and physical activity team in Public Health. We aim to improve lives by inspiring communities to be more active, more often and we support the provision of targeted services for the least active individuals in the borough.
Click any of the categories below and get the right support for your needs. 
Support to get active is available for children, young people and families, find out what services and resources are available across Solihull.
As we get older, it is important to stay active and lead a healthy lifestyle. Find suitable activities and services.
There are lots of inclusive activities for people with disabilities across Solihull, from activities at leisure centres to local groups and clubs.
Looking for inspiration for activities or support services that are right for you and your health condition, find suitable community and home-based options.
Find general advice and information about improving your health, lifestyle and overall wellbeing.
A community wellness programme that is seeking to use the inspiration of the Commonwealth Games to help people become more active and improve their mental wellbeing.
Mental Health Is Equally as Important as Physical Health
Join us for the Solihull Summer Showcase and learn new about how the Birmingham & Solihull Mental Health and Wellbeing Service can support you.
Featuring stalls from a number of charities and organisations from throughout Solihull, support for your mental health and wellbeing, free taster activities and even refreshments.
Events Taking place throughout Solihull:
Tuesday 29th August – 11:00am – 1:00pm – Solihull United Reformed Church, 741 Warwick Rd, Solihull B91 3DG
Wednesday 30th August – 1:00pm – 3:00pm – Shirley Methodist Church, 257 Stratford Road, Shirley, Solihull B90 3AL
Thursday 14th September – 1:30pm – 3:30pm – Three Trees Community Centre, Hedingham Grove, Birmingham, B37 7TP
Mark your calendars and be sure not to miss the Solihull Summer Showcase. We can't wait to see you there!
If you would like to know more, you can call or email for more information.
Phone: 0121 389 0213

If you're off on a holiday around the UK this year, then you might want to check out the stunning gardens of the National Garden Scheme. 
The National Garden Scheme gives visitors unique access to over 3,500 exceptional private gardens in England, Wales, Northern Ireland and the Channel Islands, and raises impressive amounts of money for nursing and health charities through admissions, teas and cake.
The National Garden Scheme doesn't just open beautiful gardens for charity – they are passionate about the physical and mental health benefits of gardens too. Supporting charities doing amazing work in gardens and health and grant bursaries to help community gardening projects.
One the charities to received this aid is Carers Trust, so please do give them your attention and, if possible, any donation of money or time to their cause is always graciously received. 
With beautiful gardens up and down the country, you won't be far away from enjoying the sunshine in breath-taking vistas. Find a garden near you and see for yourself just how stunning the UK is by clicking here.
If you're not able to go or don't have a holiday this Summer then don't fear. The National Garden Scheme also have 'virtual visits', where you can enjoy the beauty of a British garden from the comfort of your own home. To have a look just click here.
If you would like to donate or support the National Garden Scheme then you can find more information about that here.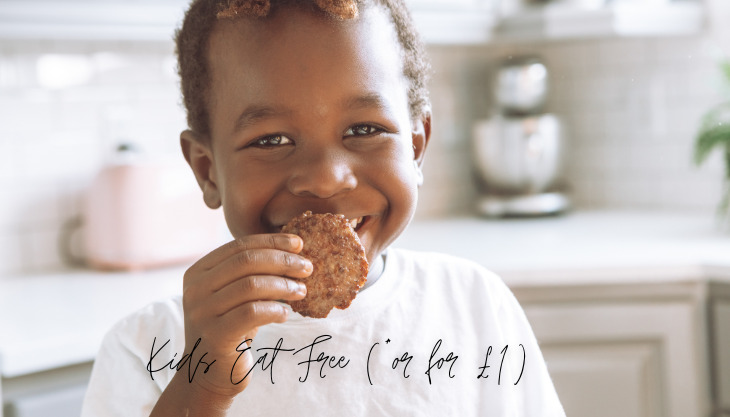 There are multiple lists online showing where kids can eat free (or for cheap) this summer but we've gone with raring2go.co.uk, as it shows a highly varied list. Definitely check out there website for more up to date details as the list can change. Below you will find the list of places to eat, accurate as of 14th August 2023.
Asda announced that its hugely popular 'Kids Eat for £1' café meal deal will be extended until the end of the year and in addition the retailer will launch half price adult main meals in its café's from 3pm onwards.
During the Summer holidays, up to two kids (under 16) can eat a free breakfast with every paying adult.
Local restaurants: Balsall Common, Shirley, Hockley Heath.
From Monday – Thursday 4:00 – 6:00, kids aged 2 – 11 can have a three course meal and a drink for £1 with any adult main.
Local restaurants: Birmingham, Stratford-upon-Avon
From 24 July – 1 September (excluding Saturdays and Sundays), up to two kids can eat free all day when you order any adult main dish from the breakfast, lunch or dinner menu.
Local Restaurants: Bullring, Leamington Spa.
Enjoy a free children's breakfast with any adult traditional or full breakfast or a free child's hot meal or pick n mix lunch box with any adult main course. This offer is available everyday in our restaurant and also includes a free child's drink.
Local Restaurants: Stratford-upon-Avon
Get a kid's combo meal for just £1 with the purchase of an adult combo meal on weekdays with an eligible ticket. Offer valid when you buy a weekday dated ticket online between 24th July and 11th August!
Enjoy selected Kids' meals for just £1 and larger meals for only £1.50 with every full paying adult every Monday.
Local restaurants: Earlswood, Sheldon, Warwick.
Children can enjoy a kids' pasta with tomato sauce with a drink for 95p or any other kids' meal for £1.50.
Local restaurants: Wednesbury
All through the Summer holidays, the kids can eat for free with any paying adult at Marco Pierre White Restaurants. Available 28th July – 31st August, excluding Saturdays after 6pm. Applies to children under 12.
Local restaurants: Meriden, Birmingham
Kids under 16 can have a free meal from the kids menu when an adult spends over £4.49.
If you spend £5.20 on an adult hot main meal in the Sainsbury's Cafe, kids can eat for £1 during the Easter holidays.
Kids Eat for £1: From Monday to Friday all day, you can enjoy 1 kids' main meal for £1 with the purchase of every 1 adult main meal bought in the same transaction.
Local restaurants: Knowle, Shirley.
Not only is our All-You-Can-Eat buffet breakfast great value at£9.99 but two kids under 16 eat for FREE with every adult breakfast purchased.
Local restaurants: Stratford-upon-Avon
We're giving away a FREE kid's meal when you order an adult's main, all day everyday, for new and existing Stripes Rewards Members. All you need to do is download the Stripes Rewards app and create an account.
Local restaurants: Resorts World, Touchwood
On Sundays, children under 12 can have a free meal when an adult spends £10 or more.
Local restaurants: Touchwood
On weekdays from 10 July – 1 September, kids get a free kiddo bento box at Yo! Sushi when an adult spends a minimum of £10. One child eats free per £10 spent on food by accompanying adult. A maximum of 3 kids per booking can eat for free.
Local Restaurants: Solihull, Warwick, Leamington Spa, Grand Central, Birmingham Selfridges.
If you, family, friends, or even a neighbour are struggling with their caring role then please get in touch. We will do all we can to help you manage your role and your life. We hope that these Summer events will help in providing some fun, respite and improve your physical and mental wellbeing. 
You can reach out to us by phone or email. 
Call us: 0121 788 1143
Email: Centre@solihullcarers.org